Quality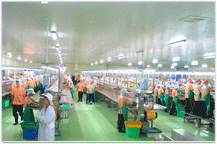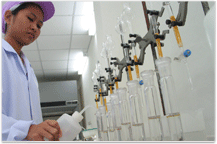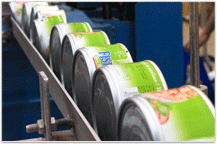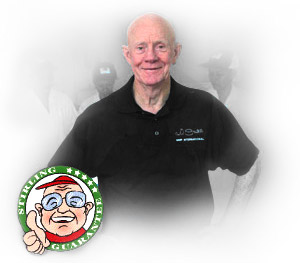 You may ask,what is the
"Stirling Guarantee"?
We at MMP want you to know that this is a comprehensive and specialized innovative quality control program, which we discussed in 2002 and instituted in 2003 to address the rapidly changing issues in the world marketplace for food products.
We call it the "Stirling Guarantee" in honor of Mr. Gordon Stirling who has been working with us for many years and is responsible for leading us towards the best GMP and production quality practices the industry requires.
Mr. Stirling has a wealth of experience and history in the protein and fish industry. After 20 years of service in the United States Marine Corp, Mr. Stirling went to work for Ralston Purina in the protein technology department for 12 years. When Ralston Purina bought 'Chicken of The Sea', Mr. Stirling went to operate and manage their Samoa tuna cannery for 7 years. Mr. Stirling came to Thailand to turn around an ailing tuna/ frozen seafood operation 13 years ago and liked it so much that he stayed.
Mr. Stirling came to MMP in 1997 as we recognized a need to improve our operations and modernize for the future. He is responsible for checking the quality of raw material before it enters our factory and is responsible for checking the finished product before it can exit our factory.
Mr. Stirling is now intimately involved with the construction of our new factory which is scheduled to open later in 2004. It will be a very "state of the art" operation to better serve our clients and improve our efficiencies.
Under Mr. Stirling's guidance, the staff has been trained, procedures have been set up, and Q.C. programs established to enable our factory to be GMP, HACCP, EFSIS and KOSHER compliant. Mr. Stirling has also taken steps to ensure that the requirements of every customer Q.C. department are met. We are regularly inspected by the U.S. Food and Drug Administration, EFSIS, private inspection firms, customer Q.C. personnel, buyers, and the Thai Department of Fisheries, as well as a host of other regulatory bodies.
Mr. Stirling is now working to make MMP compliant with the various new requirements of U.S. customs, the F.D.A., and other countries. MMP will meet the most stringent food protection and quality control regulations resulting from the "Terrorist Threats" potentially existing in the world today. We have to meet the world standards!.